Vegan Soba Peanut Noodle Salad (Gluten Free)
~ Written by Wynn Austin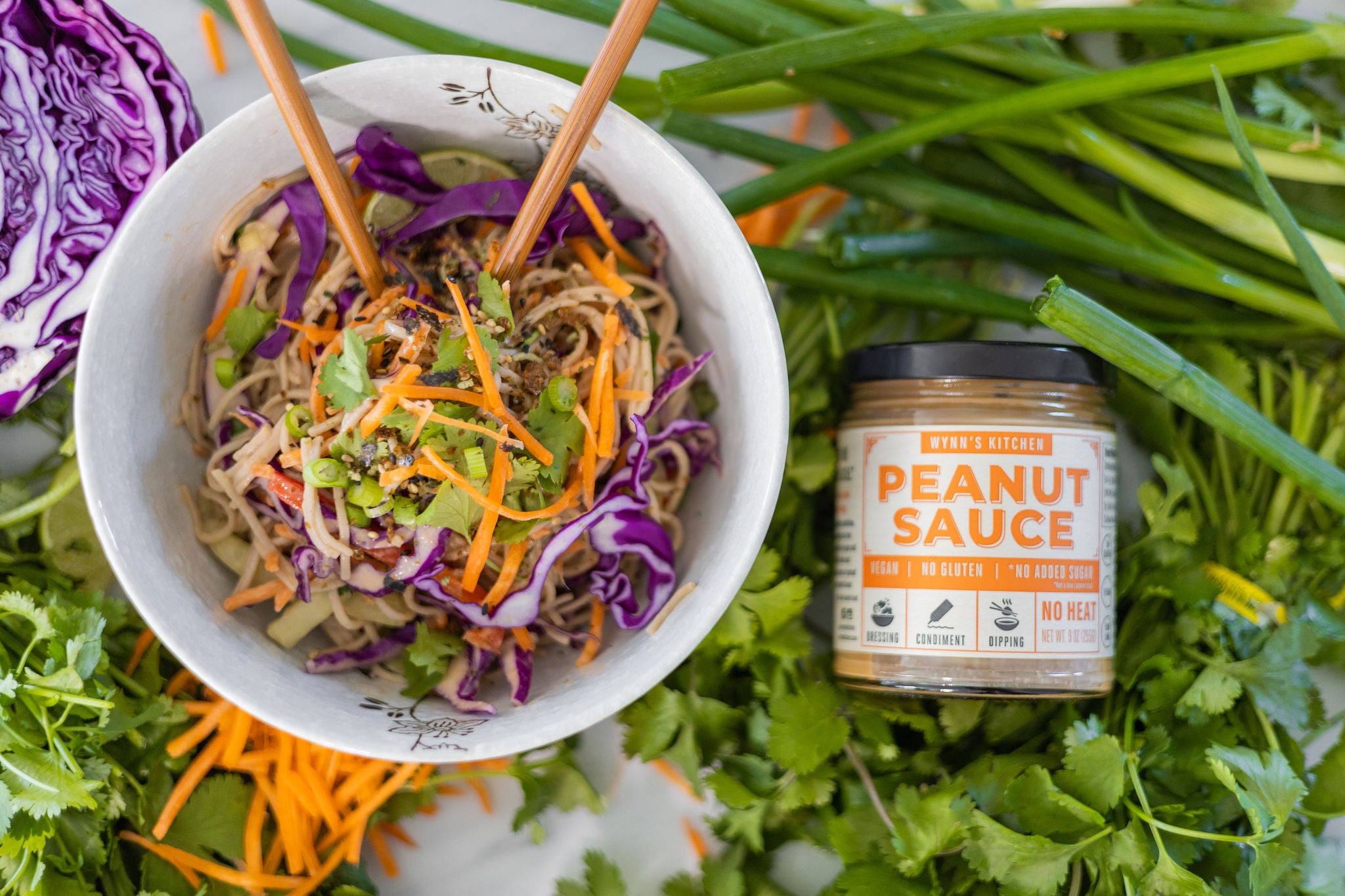 Type: Vegan Soba Peanut Noodle Salad
Prep: 10 minutes
Servings:
Level: easy
Cook: 5 minutes
Steps: five
Total: fifteen minutes
There are days when I just crave a refreshing veggie packed meal! I'm always making an effort to eat more vegetables. The best part about our Vegan Soba Peanut Soba Noodle Salad is that there is very little cooking involved. The only thing that you need to cook are the buckwheat soba noodles. 
If you are short on time, you can always buy a pre-packaged cole slaw bag and add the additional herbs. There is no wrong way to make this. I usually use whatever I have in the fridge! 
I love that our keto friendly peanut sauce can be drizzled right out of the jar!
Don't forget to give it a good mix!
This dish is always in my rotation for Meatless Monday! Sometimes I'll add some air fried tofu for more protein.
Enjoy, and as always, feel free to reach out if you have any questions! 
VEGAN SOBA PEANUT NOODLE SALAD
Ingredients:
3 bundles of buckwheat soba noodles (gluten free)
5 cups of Shredded Veggies (red cabbage, carrots, cucumber)
1 red bell pepper, thinly sliced
3 green onions, thinly sliced
½ bunch of cilantro, roughly chopped
1 jar of Wynn's Kitchen Peanut Sauce
3 Tablespoon of coconut aminos
½ teaspoon of sesame oil
Squeeze of lime wedge (optional)
Instructions:
Cook the noodles according to the package. Drain and run under cold water.

In a large bowl, combine the noodles, all the veggies, cilantro, and green onions and toss.

In a small bowl mix peanut sauce with the coconut aminos, and sesame oil

Pour the peanut sauce over the noodles and veggies and toss until all the ingredients are well coated. 

Serve in individual bowls and finish with a squeeze of lime juice and Wynn's Kitchen saté sauce if desired. (saté sauce does contain fish sauce, omit if you don't eat fish)
INGREDIENTS:
3 bundles of buckwheat soba noodles (gluten free)

3 green onions, thinly sliced

½ bunch of cilantro, roughly chopped

1 jar of Wynn's Kitchen Peanut Sauce

3 Tablespoon of coconut aminos

Squeeze of lime wedge (optional)
/////////////////////////////////////////////////////////////////////////////////////////////////////////////////////////////
DIRECTIONS:
Step 1:




Cook the noodles according to the package. Drain and run under cold water,

Step 2:




In a large bowl, combine the noodles, all the veggies, cilantro, and green onions and toss.

Step 3:




In a small bowl mix peanut sauce with the coconut aminos, and sesame oil

Step 4:




Pour the peanut sauce mixture over the noodles and veggies and toss until all the ingredients are well coated

Step 5:




Serve in individual bowls and finish with a squeeze of lime juice and Wynn's Kitchen saté sauce if desired. (saté sauce does contain fish sauce, omit if you don't eat fish)
/////////////////////////////////////////////////////////////////////////////////////////////////////////////////////////////