Seabass En Papillote (Cooked in Parchment Paper)
~ Written by Wynn Austin
My favorite way to cook steamed fish is the French way of cooking - fish en Papillote (parchment paper) It's the easiest way to cook a complete meal. You have all your veggies and protein done at the same time. It's super healthy and packed full of flavor. Not only is the presentation impressive but the clean up is even easier!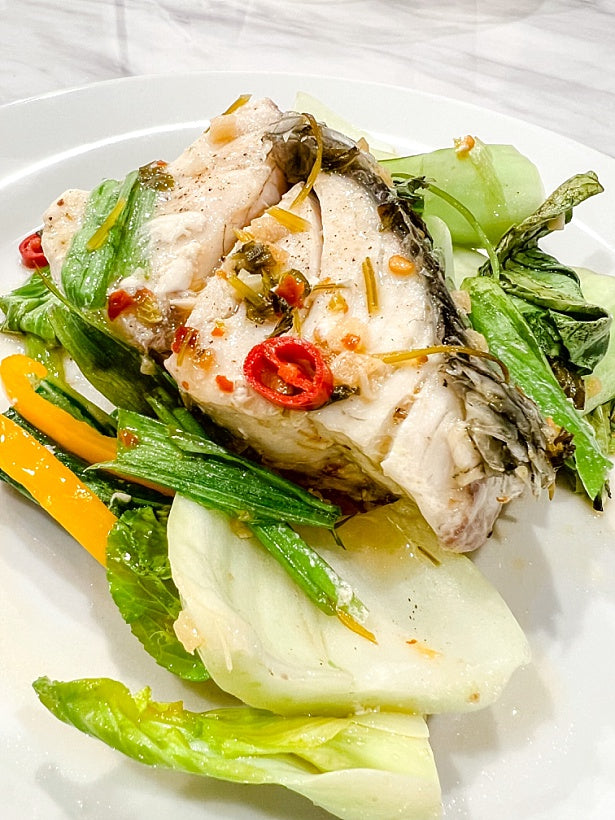 Type: Seabass en Papillote
Prep: 30 Minutes
Servings: Two
Level: Medium
Cook: 10 Minutes
Steps: 8
Total: 40 Minutes
Tip: You can have smaller fillet pieces and make separate packages for individual servings. I like to serve the entire package on the plate for each person.
INGREDIENTS:
2 bunches of baby bok choy cut into halves

1 inch fresh ginger sliced thinly

½ stalk green onion sliced thinly

(Sauce) 3 Tablespoon of Ponzu sauce

(Sauce) 1 teaspoon of Wynn's Kitchen Saté Sauce

(Sauce) ½ teaspoon sesame oil
/////////////////////////////////////////////////////////////////////////////////////////////////////////////////////////////
DIRECTIONS:
Step 1:




Preheat the oven to 400 degrees

Step 2:




Mix all the sauce ingredients together in a small bowl

Step 3:




Cut a piece of parchment paper that is approximately 12x15 and fold the longer side in half. Place it on a baking tray.

Step 4:




Lay the bok choy at the top and center of the bottom portion of the paper.

Step 5:




Lay the fish on top of the bok choy. Lay the ginger, green onions, and cilantro springs on top of the fish. Drizzle the sauce over the fish.

Step 6:




Fold the other half of the paper over the fish and begin folding from one corner, ½ inch sections over each other around the entire edge. Press down well so that it's sealed. At the other end, you can fold an extra material and tuck it under the edge.

Step 7:




Put it in the oven and bake it for 10 minutes

Step 8:




Remove the baking tray from the oven and let it rest for 1-2 minutes. Cut it open in the middle with a knife or kitchen scissors and serve immediately.
/////////////////////////////////////////////////////////////////////////////////////////////////////////////////////////////