Chicken Satay with Peanut Sauce
~ Written by Wynn Austin
Recipe & Photo courtesy of @ghostingcarbs

Keto friendly and absolutely delicious! This dish can be served as an appetizers or as a main dish. I'm a huge fan of Ghosting Carbs and because of her generosity for all the amazing dishes and photos that she shares. I'm giving all readers that come across this recipe 15% discount with the code: GHOSTING CARBS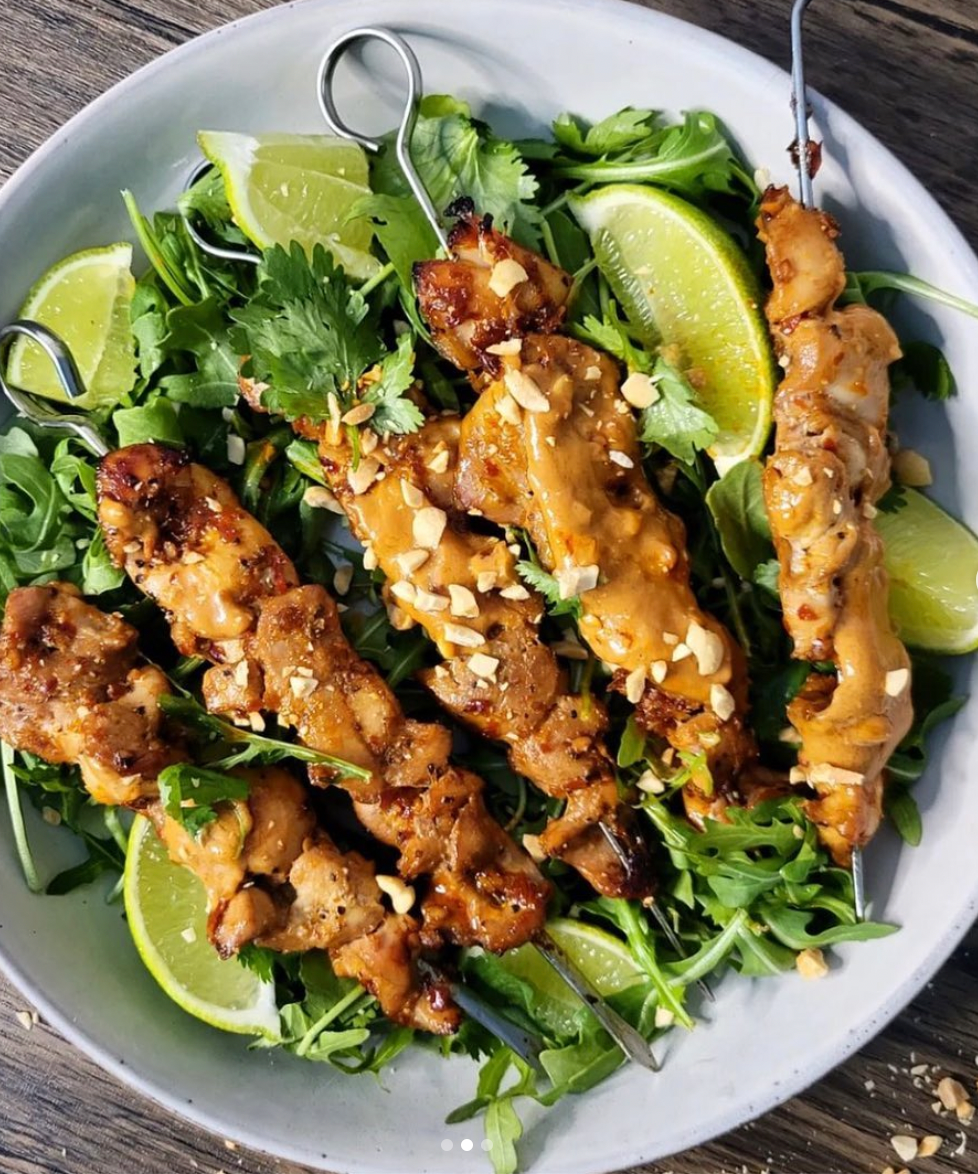 Type: Chicken Satay w/Peanut Sauce
Prep: overnight
Servings: 4
Level: Easy
Cook: 15 minutes
Steps: 4
Total: 15 minutes
Marinade:
1/4 cup @wynnskitchen chili saté sauce
3 tbsp coconut aminos
Grated ginger
Salt & pepper
2 tbsp brown @swervesweetie sweetener
Mix everything until well combined and add to a
ziplock bag with chicken thighs cut into bite sized
pieces. Marinate overnight.

Serve with our keto friendly Peanut Sauce

1.Skewer the chicken and placed on a lined baking
sheet.
2.Bake at 350 for 15 minutes. Flipping
halfway through.

Serve with a bed of greens & an extra squeeze of fresh lime if desired.
INGREDIENTS:
2 lbs cubed chicken thighs

Marinade: 1/4 cup Wynn's Kitchen Asian chili sauce

2 tbsp brown Swerve Sweetie sweetener
/////////////////////////////////////////////////////////////////////////////////////////////////////////////////////////////
DIRECTIONS:
Step 1:




Mix all the marinade ingredients and combine well. Add it to the ziplock bag with the chicken thighs and marinade overnight.

Step 2:




Skewer the chicken and place on a lined baking sheet

Step 3:




Bake at 350 degrees for 15 minutes, flip them halfway through and serve with peanut sauce
/////////////////////////////////////////////////////////////////////////////////////////////////////////////////////////////